Classes Begin Monday August 26!
​
Sign Up for a Registration Time Slot Below: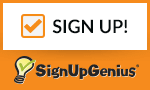 We reserve the right to make additions or cancellations to classes as needed. This is to promote the best learning environment for your dancer. Feeling good in a class helps your dancer succeed and have fun!
Private Lessons available upon request! E-Mail Miss Lauren to schedule!
---
Monday

_____________
11:30-12:00PM
DiscoverTOTS (ages 2-3) ​
_____________
3:45-4:30PM
Discover Dance 1 (ages 3-4)
_____________
4:45-5:30PM
Discover Dance 2 (ages 4-5)
_____________
5:30-6:30PM
Combo 1 (ages 6-7)
_____________
6:30-7:00PM
MS/HS Tap (placement)
_____________
7:00-9:00PM
MS/HS Ballet (placement)

Tuesday

_____________
10:30-11:00AM
​ Discover with Me! (parent/tot)
_____________
3:30-4:00PM
DiscoverTOTS (ages 2-3)
​_____________
4:00-5:20PM
Combo 2 (ages 8-9)
_____________
5:30-7:00PM
Combo 3 (ages 10+)
_____________​​
7:00-7:45PM
​ Contemporary 1 (placement)
_____________​​
7:45-9:00PM
MS/HS Contemporary (placement)

Wednesday




____________

4:00-5:00PM

Jazz/Acrobatics 1 (7+)

_____________​

​5:00-6:00PM

Jazz/Acrobatics 2 (10+) (must be in ballet)

_____________

6:00-6:45PM

Hip Hop 1 (7+)

​_____________

6:45-7:45PM

Hip Hop 2 (10+)

​_____________

7:45-9:00PM

MS/HS Jazz/Acrobatics (placement)